The Portland Raging Grannies held a vigil for the Notorious RBG on Thursday, September 24. 
After a brief memoriam and readings, we marched across Tilikum Crossing, the Bridge of the People. Words and photos of the event follow.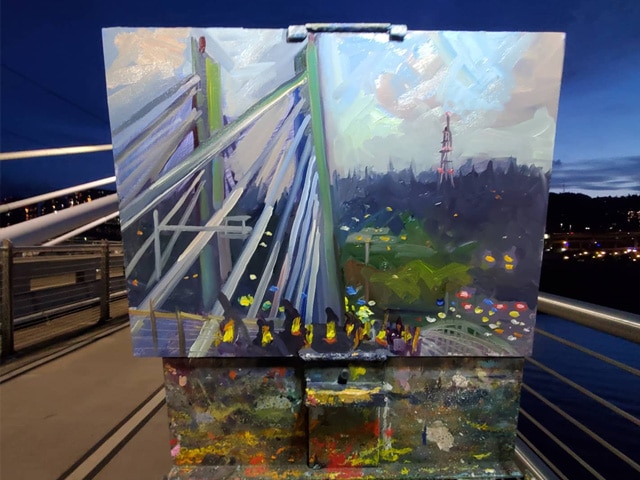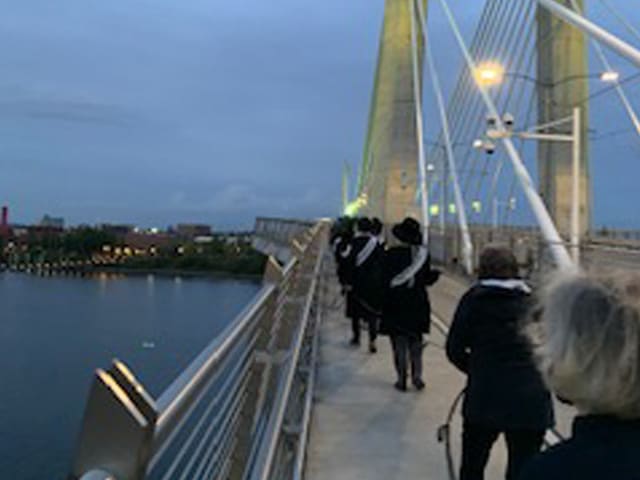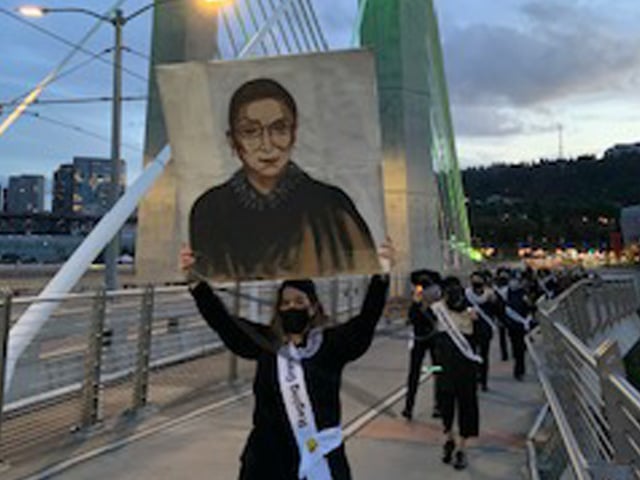 WELCOMING WORDS FOR RBG MEMORIAL
Hello and thank you so much for joining us, the Portland Raging Grannies, here tonight on The People's Bridge, as we take time to honor, perhaps the greatest of America's Great Ladies.
Ruth Bader Ginsburg was a woman who loved life and lived it large in every sense of the word. The brilliant light of her indomitable spirit has shone far and wide, and though the tiny body in which that spirit was housed for 87 and a half years has left us, there is no doubt that light will continue to shine as a beacon for generations of women to come.  As admired and "notorious" as she was, Ruth Bader Ginsburg never lost her humility. She was always ready to recognize and honor those who paved the way for her, even as she was breaking new ground for us and for our daughters and our granddaughters and for all Americans, regardless of their race or disability or gender expression. And not the least of those she credited was her mother, Celia, who according to Ruth, had proudly marched in the Suffragette Parade to Get the VOTE for women, and had advised her daughter from a very early age, to "Be Independent."  
In an interview at Columbia a few years ago, when the conversation turned to opportunities her mother didn't have, Ruth answered in her typical hint-of-a-smile fashion: "When I talk about my mother I sometimes like to ask the question, What's the difference between a bookkeeper in the garment district and a Supreme Court Justice? – one generation."  …. One Generation.
Ruth was both a fighter and a lover. She was as funny as she was serious. She was open and honest and said things about herself like: "I struck out on three grounds. I was Jewish. I was a woman, and I was a mother. The first raised an eyebrow, the second raised two, and the third made me indubitably inadmissible."  But Ruth was never one to take 'no' for an answer, and never one, as she put it, "to sit in a corner and cry."  She was not afraid to dissent and we know how beautifully she could do that. In the case of Shelby County vs Holder when  the court gutted the Voting Rights Act,  her dissent included these words:  Throwing out pre-clearance when it has worked and continues to work is  like throwing away your umbrella in the middle of a rainstorm, just because you're not getting wet  ….   Wouldn't she have made a great Raging Granny?  
Once upon a time, so the story goes, Ruth wanted to be an operatic diva. Instead, she became a pop culture icon and a Rock Star of the Supreme Court.  But her love for opera and theater never went away and over time she became so loved by the opera community that last Friday night upon receiving word of her death, every opera house across the country dimmed their lights.  "Art is what makes life beautiful" she said, and what was she, Ruth Bader Ginsburg, if not a magnificent piece of timeless art?  
While it is true that our country has lost a hero, it is the World and the Human Race that has lost one of our finest Beings.  May she rest in Peace and Power as we walk together in her memory across "The People's Bridge" carrying her light and her courage and her wisdom.   And let us not forget what she said about not sitting in a corner and crying.  Tonight we grieve. Tomorrow we fight!   
Thank You.
Sulima Malzin,
for The Portland Raging Grannies